EcoFun Rentals Whale Watch
Puerto Penasco (Rocky Point), Baja Mexico
EcoFun Rentals Whale Watch
Puerto Penasco (Rocky Point), Baja Mexico
Welcome to EcoFun Land and Sea Excursions! We are pleased to offer fun activities for the whole family to enjoy.
From ocean adventures to an island that 2,500 sealions call home, we will take you there aboard our 70′ catamaran. When on land we will take you to the heart of "Pinacate Reserve and Biosphere," one of the 13 natural wonders of Mexico.
Puerto Penasco (Rocky Point)
Baja
Whale watching with a disco ball!
We choose weekend getaways that will include a whale watch. We did just that and booked our adventure to Puerto Penasco (Rocky Point) - and an adventure it was! The trip organizer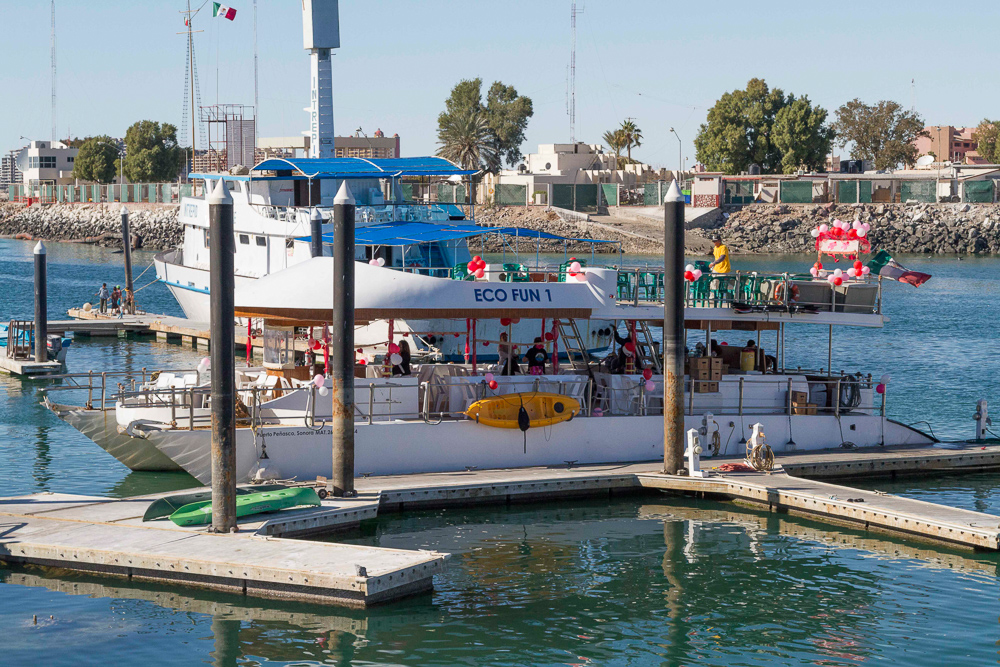 made it all a surprise, and I had no idea of destination other than a general idea of "baja" as we headed toward the border.
The desert drive was beautiful and settled in once arrived at the hotel. Of course, we noticed the "EcoFun Whale Watch" brochures, got excited and talked about going. Sure enough, I was woken early the next morning off we went to EcoFun where reservations had already been made.  My extra surprise was revealed!
Check-in and boarding was routine and everyone settled into their chosen tables. As the boat left the dock, the crew captured our attention and introduced themselves. One crew member spoke excellent English and the others a mix of some to none. 
The disco ball
The crew pointed out boat features, and as I looked around, there it was - a disco ball hanging from the ceiling. I thought to myelf "aha, the boat does evening crusies and they use it then - little did I know.